MULLEROL ANTIFREEZES – COMPREHENSIVE PROTECTION!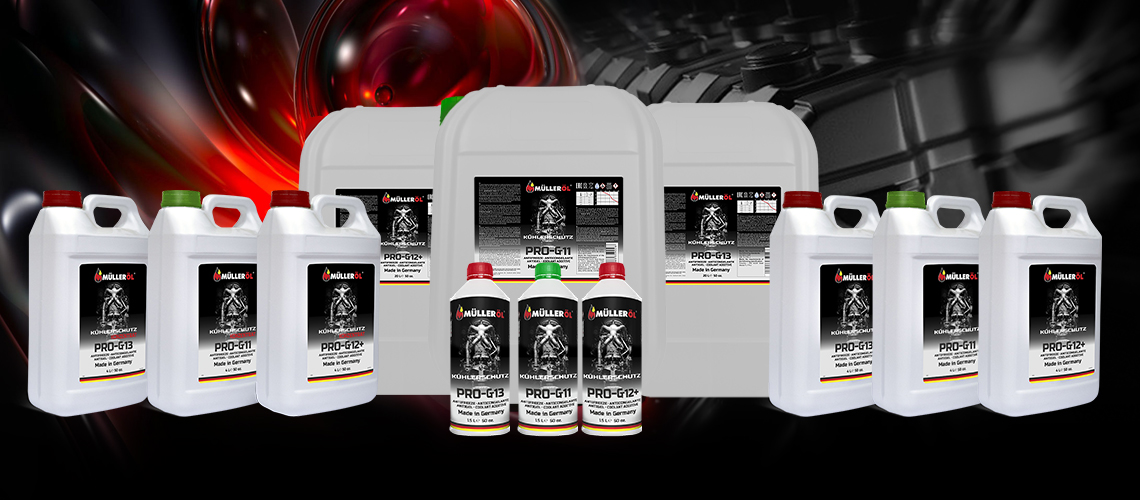 Antifreeze plays a significant part in maintaining maximum engine performance. First of all, it is needed to cool the internal combustion engine, in which fuel combusts and thermal energy is transferred to rotate the shaft. To protect the constituent elements of the motor from losing their mechanical characteristics and overheating, it is necessary to ensure proper heat removal.
MULLEROL ANTIFREEZES – COMPLETE, ACTIVE, COMPREHENSIVE PROTECTION!
MULLEROL antifreezes are created to solve a complex task:
1. maintaining the optimal temperature regime of the power unit;
2. protection of motor parts from cavitation and corrosion;
3. air cooling in a turbocharged car cooler.
Antifreezes not only prevent freezing and improve transmission, but also protect important parts from overheating. MULLEROL antifreezes are suitable for use in cooling systems of most brands of European and Asian cars! MULLEROL is made on the basis of ethylene glycol (monoethylene glycol) with the addition of a package of highly effective additives. The product does not contain: nitrites, amines, borates and silicates. The antifreeze formula provides active protection against corrosion, without damaging rubber and plastic materials. The fluid replacement interval for the cooling system is approximately 200,000 km. The liquid in the form of a concentrate must be diluted with water.
Advantages:
— excellent corrosion protection
— do not contain amines, borates, nitrites and phosphates
— protection against overheating
How to choose car coolants
It is best to use the same antifreeze that was originally put in at the factory. The brand and the class of the coolant are recorded in the car owner's manual. Do not mix antifreezes of different types and manufacturers, even if they are of the same color, as the chemical reaction can be unpredictable due to different additives.
Scope of application: For engines from cast iron, aluminum or a combination thereof, as well as for cooling systems with aluminum and/or copper alloys. Especially for light alloy engines that require special aluminum protection at high temperatures. For cars, trucks, buses, agricultural machinery, as well as stationary engines and units that require antifreeze of this quality.