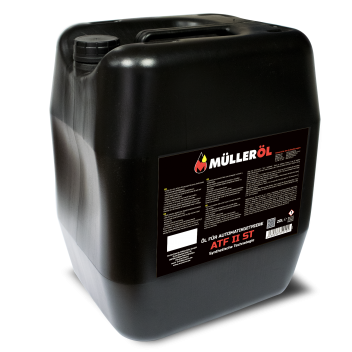 1L met
1L plast
4L plast
20L
Transmission oil ATF II ST
Benefits:
- good anti-wear performance;
- high temperature resistivity reduces (inhibits) the sludge deposits formation;
- optimum frictional properties ensure smooth gear shifting;
- it is compatible with the packing seals and sealing materials;
- stable high viscosity characteristics and shear stability;
- excellent corrosion resistance;
- effective anti-foam properties;
- excellent detergent and dispersant properties.
ATF II ST is high performance multi-purpose fluid year-round used in all types of automatic transmissions, as well as the power steering and other hydraulic systems of the car. It ensures the engine automatic transmission full protection under high speeds and heavy loads; ensures efficient operation of the transmission and smooth gearing, this fluid contains anti-wear additives that increase the transmission's service life. It provides reliable operation under different driving modes and road conditions.
Recommendations on use:
- advised for use in modern high-performance engine of a passenger cars, SUVs, vans and light trucks;
- when oil selecting follow the automobile manufacturer's recommendations.
Levels:
GM Dexron II D, Allison C3/C4, MB 236.6, 236.7, ZF TE-ML 03D, 04D, 11A, 14A, 17C, 05L, VOITH H 55.6335.xx, Ford SQM-9010B, M2C-138 CJ, 166H185A, Caterpillar TO-2, Mercon, Renk Doromat, MAN 339 Typ Z-1
Barcode:
1L - 4260283352418, 20L - 4260283352425